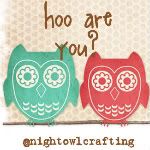 Hop on over to Night Owl Crafting and join the party
http://nightowlcrafting.blogspot.com/2010/11/hoo-are-you-23.html
1. Do you ever burp out loud in private or public?
I really try not to do that but on occassion I suppose you have to!
2. How often do you get sick each year?
3-4 I guess but do mom's ever really get sick days? So can we claim that we are ever REALLY sick?
3. Would you rather paint a room in your house yourself, or have someone else do it for you?
I wish I could afford to have someone else do it because I would much prefer to watch than to paint it
4. If you get 30 minutes to yourself, what do you do?
I wouldn't know what I would do, ha ha something for myself; devotion, craft, read, get on computer to work on my cards that I am trying to open an Etsy shop to sell (hope to be doing this very very soon) so excited about it, now if I could just find the time besides late at night!!
5. Do you allow people to wear shoes in your house?
yes, a house is to be comfortable in, not for perfection