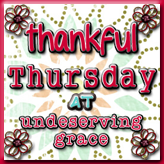 Undeserving Grace
hosts this great blog hop every Thursday so we can remind ourselves of the things we are grateful for since we tend to spend much more time on the things we do not have.
Here is my Thankful List from this week:
Zoe is finally feeling better! poor thing has been just terribly sick for over a week
My husband who doesn't give up
Cross my fingers but that I think I have found a sitter so my husband can go to the CVAC memorial with me~he hasn't got to go to anything that has to do with my brother's death
Power & Electricity-after a full day of no power; you really have to be thankful for it b/c without it life can be pretty yucky~I was just not made for pioneering
That Ava is so excited about her ABC Circus performance at school Friday! can't wait to see her
A pretty quiet week so far
If I sat here long enough I could think of tons that I am thankful for but for now, I leave you with this...
The mind of a man plans his way, but the Lord directs his steps." - Proverbs 16:9