Thankful for God's grace and healing this week.
My grandmother (Mamaw) who has been in the hospital all week, I am thankful it wasn't anything worse and that she is starting to recover
My parents (without them, I might fall apart)
My Aunt who is keeping my girls for me in the afternoon's and has been taking such great care of them
The spray tan I am getting from my friend's tanning salon this morning (and yes, I am already running late but I think giving thanks this AM was important) I am far too pale and the weather has been far too nice...so she is giving me a present!!! Love presents!
That I haven't exactly pulled ALL my hair out from this week at work (you know what I am talking about, we all have those weeks/days)
I watched the Passion of the Christ this past weekend for the second time, and it hit me in a whole different way than the first time I saw it when it came out. Lots of things have changed in my life and as we grow into a relationship with Christ and learn more of what was given up, thank you, thank you Jesus for your sacrifice to allow us to have the undeserving grace that we are given. I don't know if I am strong enough to take on what you did for all believers. Very painful for me to watch. And Mary, watching her son suffer so, being helpless, I felt a huge aching for her after seeing what my parents have gone through, knowing her Son paid the price for us all; what a Woman she was. I don't think there has ever been a strong woman and mother. Just looking at her face, in such agony gave me chills.
Let's carry on with the rest of our week, hoping to give thanks for all we do not deserve but have been given!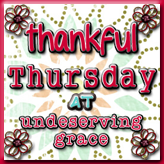 With Love,