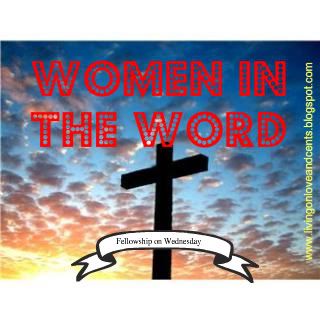 I was so excited when I opened my email to see that I was the spotlight on
Living on Love and Cents
,
My Slice of Sanity
, ONE + ONE = FOUR, and Flutterbys and Frogs
for Women of the Word Wednesday! This is a great way to bring God into our lives, lift each other up in prayer and give each other encouragement and support.
This is an especially hard week as Sunday, January 30th marks the 1 year anniversary of my brother's death. This week has also been filled with joys that I am trying to enjoy while also preparing for a sombering day. Monday the 24th I turned 30, ironic that I am 30 and my brother died on the 30th. My wonderful friends and I will be doing dinner next week so I am very excited to see each of them as it is hard to get together in a world full of kids, work, and everyday things. Today, the 26th my oldest daughter turned 5! I brought a cookie cake to school a little while ago and just got back. She shared a birthday party with her little sister a week ago and they had such a blast tumbling. Here are some pictures...
I will leave a verse this week to reflect on that I use to bring me comfort, strength, and peace in the upcoming days. If you are in need of these things I hope it can be uplifting for you as well. It is a simple verse but a powerful one that reminds us just how much Christ loves us.
Hebrews 13:5 "Never will I leave you; never will I forsake you."
I ask for prayer this week for my family as we face this coming Sunday. I will be speaking at the grave for a small rememberance ceremony. I have rewrote the speech about 5 times so far so wish me luck. I want it to be just right.
With Love,